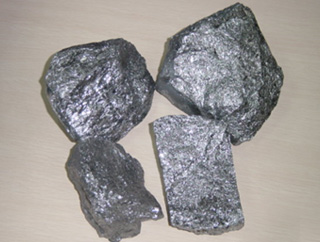 Silicon metal, also called crystal silicon or industrial silicon.

Typical application:
Mainly used in metallurgical industry as additive of nonferrous radicle alloy;
To add it to nonferrous metal for heighten the metal's strength, hardness and wear resistance, also heighten foundry and welding capability. To apply to not only alloy metal agent for silicon steel, special type steel, but also aluminum alloy and casting industry;
After technique processing, it can be made into monocrystalline silicon for electrical industry;
In chemical industry, used for the production of silicon radicle compound, eg. silicon alkyl, silicon ketone, organic silicon, silicon oil etc.;
To be used in the production of semiconducting silicon, silicon ceramic, silicon nitride etc.